Opinion: How we went from 'The Office' to 'Severance'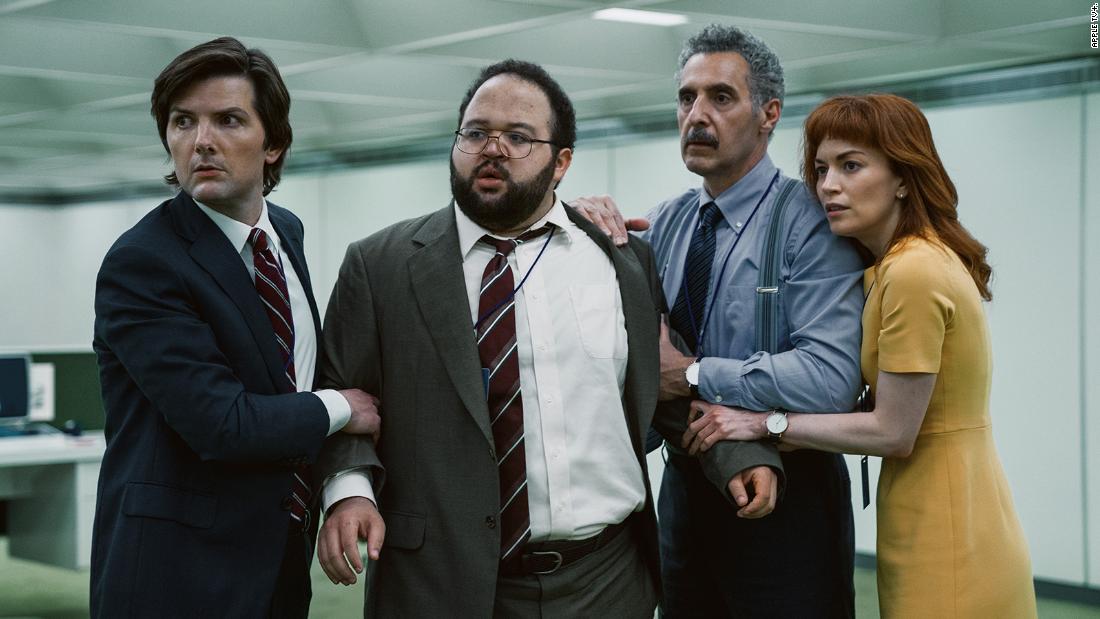 Weaknesses in the workplace were once the subject of great American television comedies. But in "Severance", nobody laughs anymore (unless it's in a really disturbing way).
The critically acclaimed Apple TV+ sci-fi thriller, renewed for a second season, revolves around Adam Scott's character, Mark, who underwent a procedure called "separation" at his company, Lumon Industries. His brain has been altered with an implant that renders him unable to remember what happens during the workday, halving him into what the characters call an "innie" office worker and an "outie" à la home.
Many of the show's trappings are deeply familiar: a small team of co-workers hard at
work
at their desks, never really knowing what they're doing and occasionally bumping into people from other departments. But where other series have exploited bland minutiae of office life for laughs, "Severance" is disorienting and surreal, set to a simple four-chord theme (and one hell of an earworm) that evokes terror and horror. And for good reason: the more we see of Lumon, the more its mysterious mission seems harmful.
In one of the show's scariest scenes, Helly (Britt Lower), the estranged new recruit who has repeatedly tried to leave – including threatening to cut his fingers with a letter opener – watches a video of her "outie" telling she has no right to stop.
"I'm a person. You're not," Outie Helly told him. Bizarre intra-company illustrations appear, depicting what appears to be one department trying to eat another. And the company's "break room" is a darkly comedic play on the term, with employees sent there for long, torturous confessional sessions. Of course, all of that is forgotten once the laid-off workers leave the building.
Could "Severance" creator Dan Erickson really have had his finger so firmly on the pulse of America's post-pandemic workplace?
A 2014 study found that American workers were much more likely than people in other countries to work after returning from the office, to work overtime and not to use the pathetically low number of vacation days that granted to them (these statistics reflect years of Republican legislators stripping workers' rights and giving more power to employers).
Pop culture, always a mirror of our real lives, reflected this growing darkness.
Traditionally, on American television, the workplace was a safe space. In both sitcoms and dramas, the job was to build a life, make lifelong friends, and even fall in love. Even in its most dysfunctional form, the television workplace was, until recently, a reflection and amplification of the American dream. The work had a purpose; people were elected family.
In an essay on the end of "The Office", author Michelle Dean observes that "classic workplace sitcoms — 'The Mary Tyler Moore Show', 'M*A*S*H', 'Night Short' — usually had some kind of meaningful work in the background, doing something important alongside all their jokes. Or, like in sitcoms like "Designing Women" or "Newhart", the main characters were at least all very good friends, engaged in some sort of collective effort."
By contrast, the newest flagship of workplace shows, the American version of "The Office", has begun to dwell more on the nonsense of work and the often tedious obligatory time spent there. . Still, it filtered those observations through often brilliant humor — and it's still one of the most popular sitcoms of all time.
Conversely, however, the dystopian world of "Severance" simultaneously presents a kind of perverse fantasy about the boundaries between work and private life, doesn't it? Mark S. and his colleagues don't have to worry about bringing their work home because their altered brains won't allow it. When they go out, that's it, and their home life is theirs. For the significant number of workers who continue to do their jobs at night and on weekends, the Lumon experience, gruesome as it is, might actually be an improvement.