Man arrested for immigration offenses in London freed as protesters block van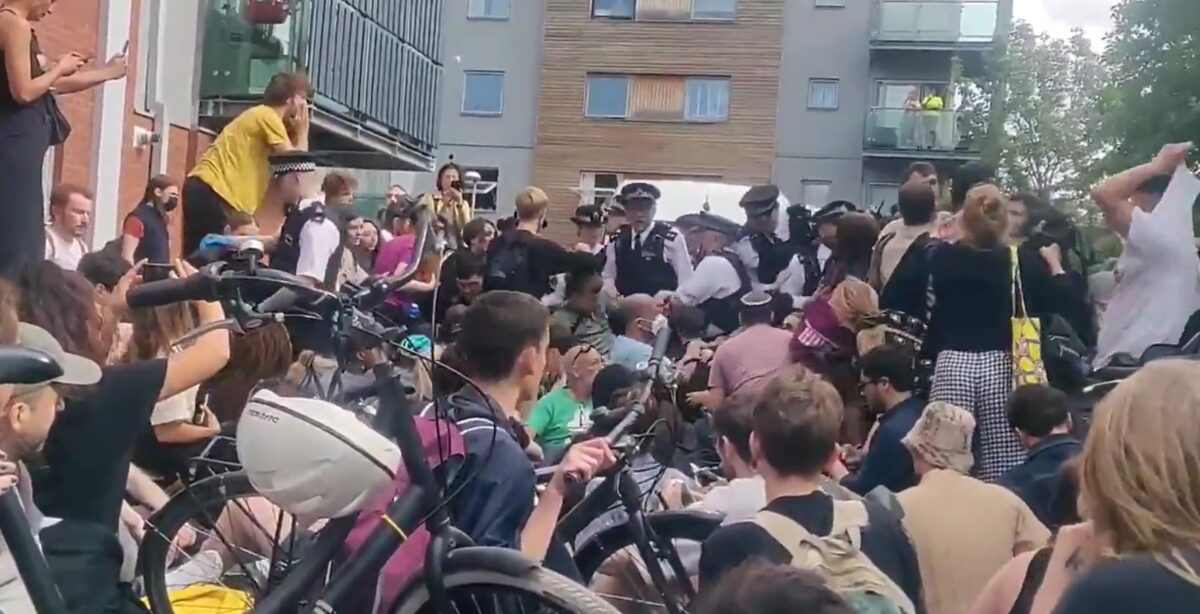 A man arrested for immigration offenses in London has been freed after protesters gathered for hours to stop a van he was traveling in.
Footage from the scene showed a crowd of people sitting on the ground in front of the vehicle in Peckham, southeast London.
Metropolitan Police officers were called to Evan Cook Close shortly after 1.30pm on Saturday 'to a report of protesters obstructing immigration officers' and said officers remained at the scene until shortly before 5pm hours.
A police spokesperson said: 'Officers attended the scene and discovered that a van was being prevented from leaving the scene. A man has been arrested by immigration officials for immigration offences.
Met Police confirmed the man has since been released on bail.
Eleanor Janega, one of the protesters, told the PA news agency they had been alerted that "there was an immigration raid in progress" and had come down to "block it".
An activist from a group called Stand Up To Racism, who only gave her name as Nicola, said police 'tried to arrest a number of activists at the front' but gave up because ' they were held back by others".
Nicola told PA: "After much protest, the police announced that they were going to release him. [the arrested man] and it took them, I don't know, about half an hour to open the doors, so we all stayed and called to get it done quickly."
The Home Office has said preventing immigration enforcement teams from doing their job is "unacceptable".
"Blocking or hindering them will not deter them from undertaking the tasks the public rightly expects of them," a spokeswoman said.
It is not the first time that pro-immigration campaigners in the UK have succeeded in forcing authorities to release people arrested for alleged immigration offences.
On May 13, 2021, Police Scotland released two Indian men from an immigration police van in Glasgow, after around 200 protesters blocked the van for eight hours.
Police Scotland later confirmed they had arrested and charged a 23-year-old woman and two men, aged 31 and 32, with public order offences. The three men were told earlier this year that they would be tried in early August.
On May 5 this year, more than 100 protesters gathered in Scotland's capital, Edinburgh, to block what they described as an "immigration raid", after it was reported that two immigration vans had arrived at Nicolson Square.
The Home Office said two people broke immigration laws and were released on bail, adding that the protesters had no impact on the outcome of the operation.
PA Media contributed to this report.