Flexibility and hybrid work attract large companies and multinationals to coworking spaces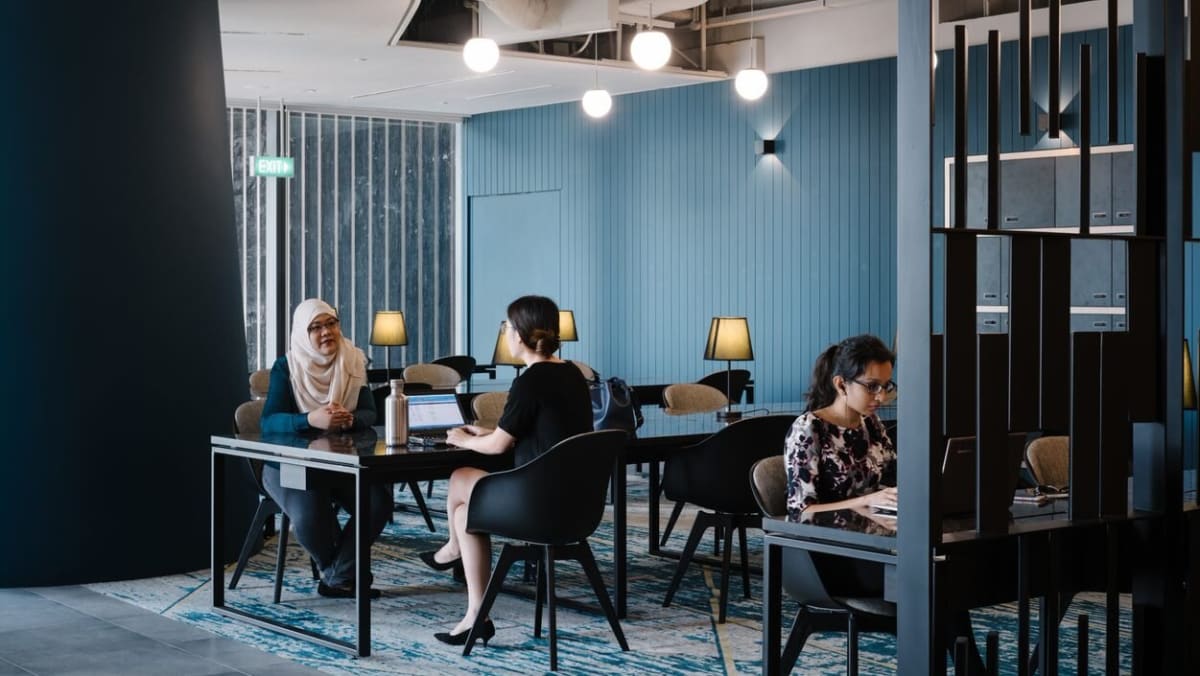 SINGAPORE: Ms Mildred Ang, who works at Klook Singapore, sometimes heads to a "hiding place" in the coworking space where her company is based, for a moment alone to think about "abstract stuff".
That hideout could be a wellness room or an outdoor rooftop garden, where she can get away from her co-workers for an hour or two, she said.
"I then have the ability, or the flexibility, to come to our team to continue the discussion or have another brainstorming session," said Ms. Ang, head of partnerships and affiliates at the e-commerce company of trips.
"I think that's one of the biggest benefits."
Klook, which employs around 100 people in Singapore, has rented a floor of coworking space here for two years. Employees can also use desks at all branches of the coworking chain, which Klook asked not to name.
Ms. Cary Shek, the company's vice president for people and culture, said that when Klook entered the Singapore market a few years ago, employees worked in a boutique. But as the team grew, it became impractical.
She wanted a space that would better facilitate collaboration and communication between team members, and found that a coworking space could also offer more flexibility compared to rented offices.
"As a fast-paced business, efficiency is so important to us. It takes time to set up a new office and…maintain it. We have to make a call – what do we want our people on focus," she said.
"A coworking space gives us scalability… (and) allows us to optimize space, like when our business keeps growing."
MULTINATIONALS, LARGE COMPANIES
Apart from companies like Klook, multinationals are also turning to coworking spaces.
Mr. Michael Sim, Vice President and Director of JustCo in Singapore and Korea, said that half of JustCo's members are from multinational companies, while the other half is a mix of start-ups and SMEs.
"Unlike a few years ago, nowadays we have seen more and more multinationals adopting flexible space as their main option for using their office space," he said.
Standard Chartered Bank's 10,000 employees in Singapore can work in offices closer to home, provided by flexible space provider IWG, while the bank maintains main offices at Marina Bay Financial Tower 1 and Changi Business Park.
"Our way of working has evolved during the pandemic and by actively listening to our colleagues, we have taken a more agile approach to our real estate strategy," a bank spokesperson said.
Through its agreement with IWG, bank employees have access to 3,000 IWG offices around the world.
Mr Brian Richards, Standard Chartered's resource manager in Singapore, said he met colleagues at the bank's main offices and sometimes used coworking spaces as an alternative to working from home and business meetings. offsite team.
"I appreciate having a variety of conducive spaces available to meet my various work needs, and the change in environment is refreshing and boosts productivity," said Richards.
DEMAND FROM DIFFERENT SECTORS
IWG said that companies of all sizes – multinationals, SMEs or start-ups – are increasingly interested in coworking spaces.
In Singapore, IWG's on-demand subscription sales increased by 85% between Q4 2021 and Q1 2022.
"In fact, 83% of Fortune 500 companies use our services, and a good chunk of them have a presence in multiple markets, including Singapore," said Mr. Darren Rogers, IWG Country Manager here.
WeWork, which just opened a new 220,000 square foot space at Collyer Quay, has also seen demand rise. In the second quarter of this year, it showed almost 90% occupancy in Singapore, an increase of 25 percentage points from the previous quarter, said Mr. Balder Tol, managing director for Australia and South Asia. South East.
And businesses make up more than half of its business in Singapore, Mr Tol said.
"What I've noticed is that companies of all sizes are still redefining their workplace strategies," Tol said.
"What we're seeing across all businesses is a preference for flexible leases to reduce their reliance on traditional real estate, due to rising operating costs."
Like IWG, their clients range from multinationals and large corporations to SMEs and start-ups. Both companies said there was strong demand from the finance and technology sectors.
In addition, Mr. Tol noted that the pharmaceutical industry and even government agencies are also interested, for example the Ministry of Culture, Community and Youth uses flexible space at WeWork.